Topic Summary
Posted by redlaser76 on Nov 16, 2011, 7:24pm


There are many rumours in the Underworld one such is that the Baron has a half brother he doesn't talk about. The Broker, Abel Sharaz hacked into the Baron's funds stealing seven million from an account that no one in the Red Shadow hierarchy was aware of. The Baron personally hunted down Abel only to find he was the last person he expected to see again his half-brother. Abel wormed his way into the Red Shadows saying he would only give back the money if he could join his half-brother's organization. Abel usually has a Gibli entourage with him at all times he still brokers information to others but also is the Data Analyst and hacker for the Red Shadows. Recently he acquired a cannon he calls the Red Tarantula that he accesses through his laptop.

I made some of the Gibli using the recent Indiana Jones range the marksman was made using Darth Maul I undercoated his skin keeping the bottom part of his face the same as an ethnic beard and used Snakebite Leather for the skin while the undercoat was drying it gave the right complexion not too dark and not too caucasian looking.

Posted by Red Baron on Nov 16, 2011, 10:48pm
Nice ones RL and this is the best lighting I've seen on your customs. Excellent
Posted by NFC on Nov 16, 2011, 11:36pm
Nice, very nice!
Posted by Dark Horse on Nov 17, 2011, 1:40pm
Great to see these agai. That's really good red coverage. Very tempted to copy the red thugs!
Posted by redlaser76 on Nov 17, 2011, 6:48pm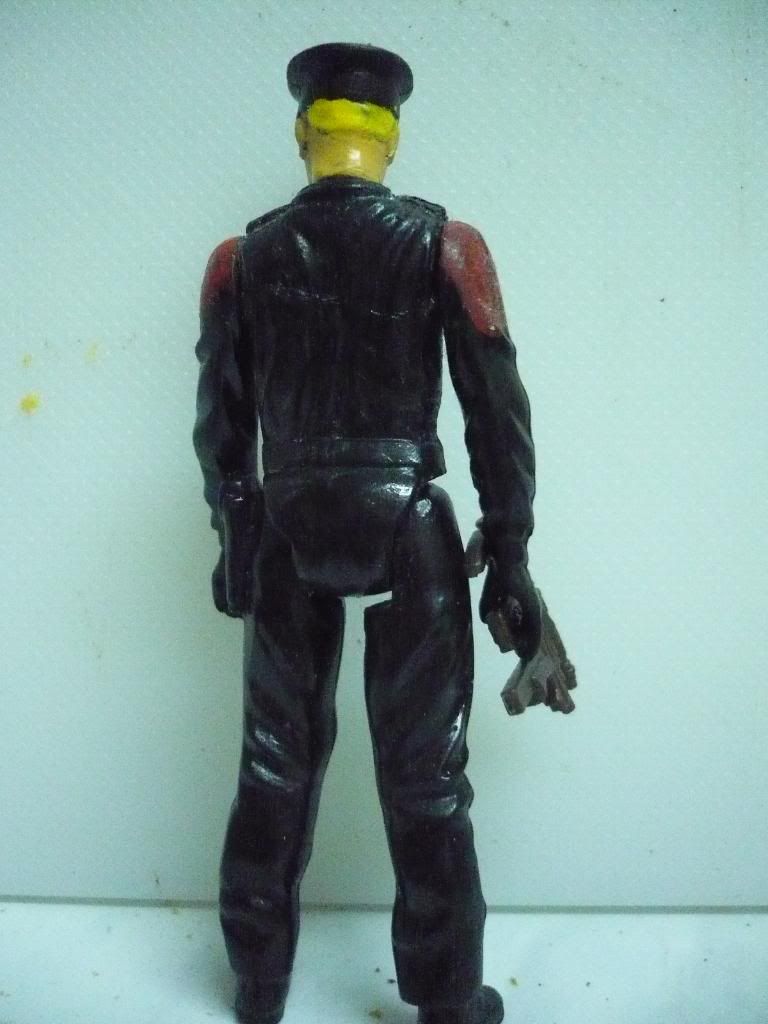 Black Scarab. I created him about a few years ago he is Kurt Muller QuickFire's younger brother. Kurt was a mercenary found injured and dazed by the Black Major recognizing his older brother in Kurt's face he quickly took Kurt. Kurt was then given over to the mercy of the Baron who then subjugated Kurt and named him Black Scarab who became the Intelligence Officer of the Red Shadows.

Any ideas to make him a modern poseable figure would be appreciated.
Posted by redlaser76 on Nov 17, 2011, 7:44pm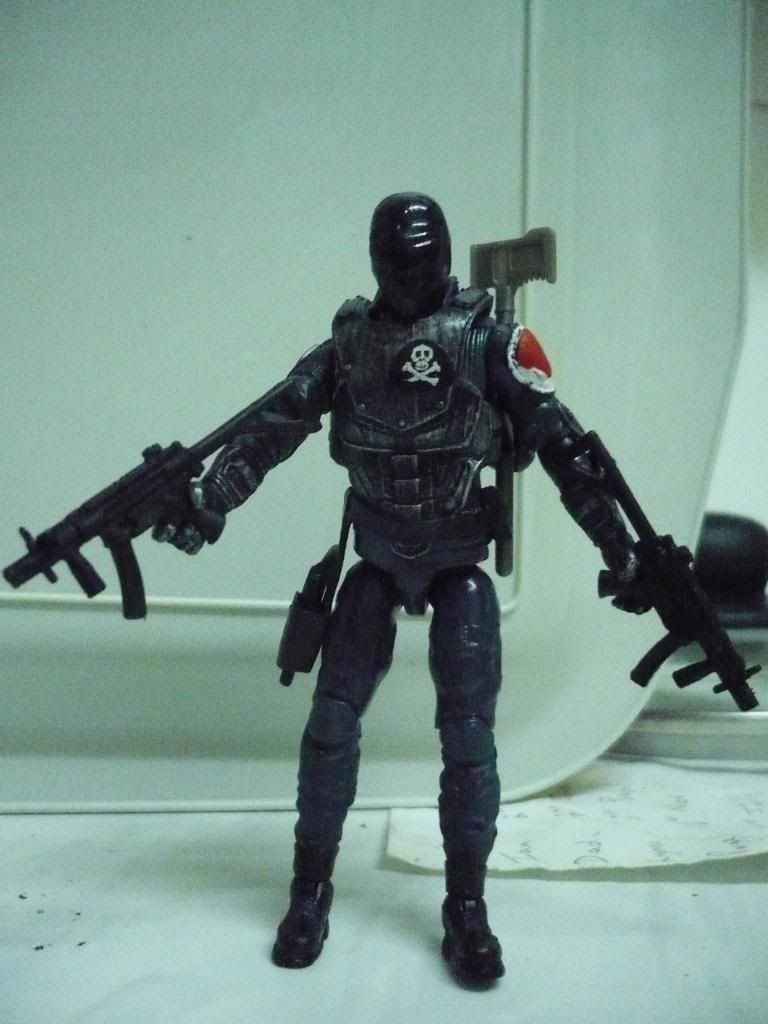 Here is my version of a more battle hardened Black Major outfitted for arctic operations.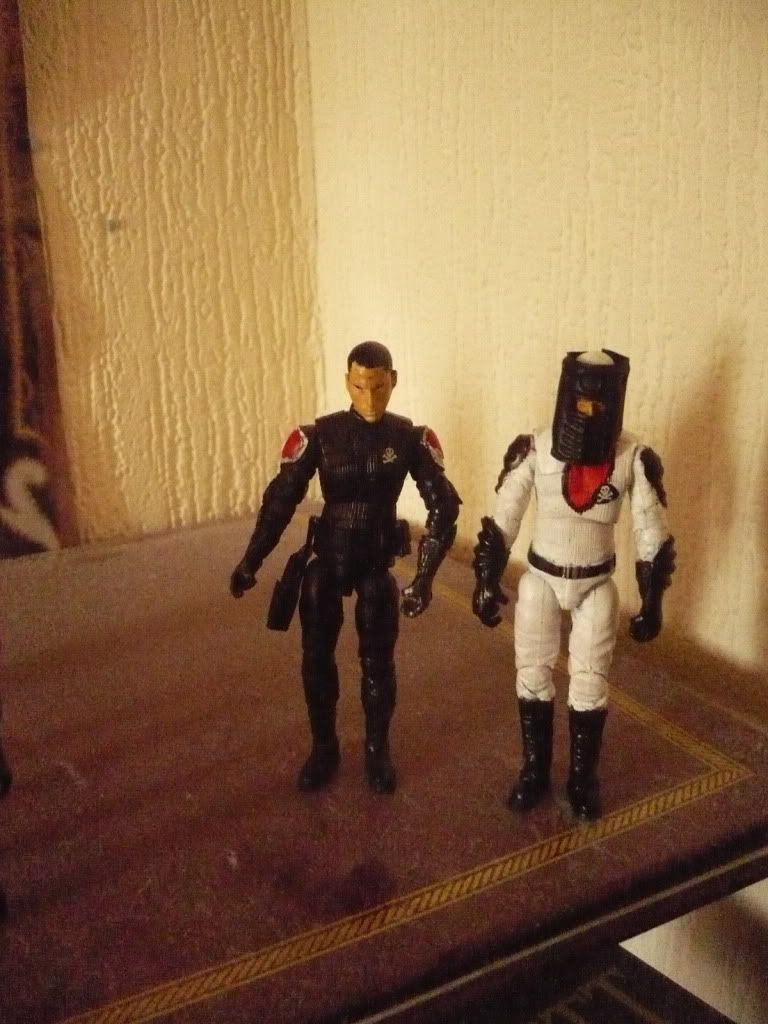 And in normal uniform with the Baron.
Posted by redlaser76 on Nov 17, 2011, 7:46pm
Red Jackal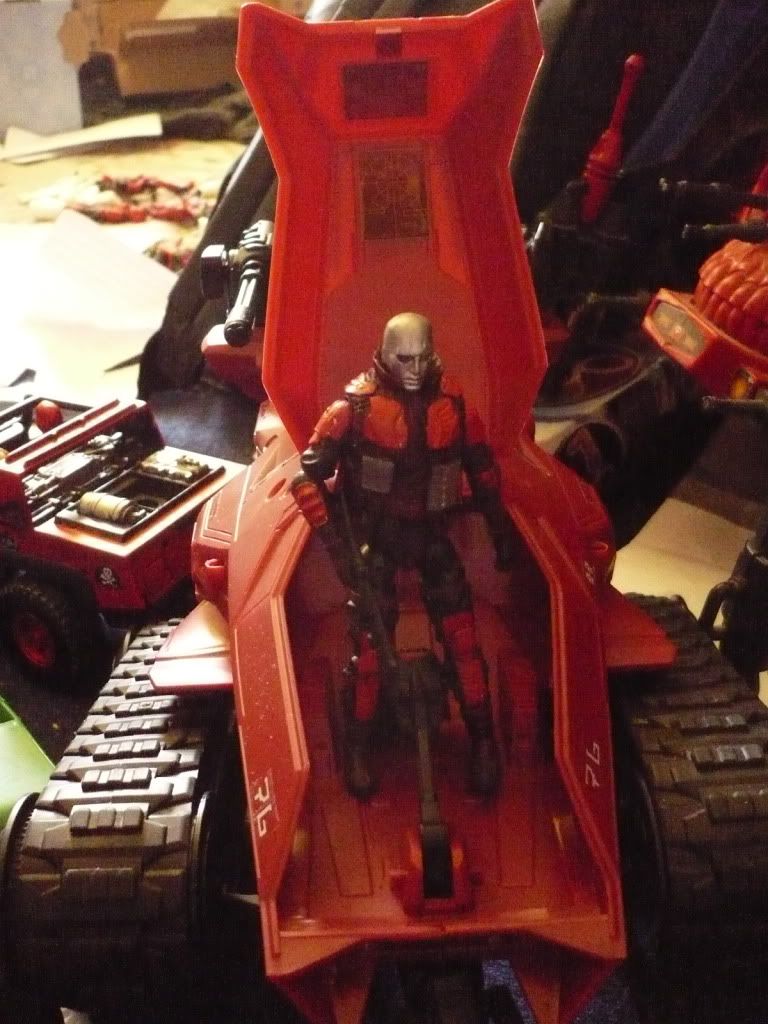 And in the cockpit of his Hyena
Posted by Dark Horse on Nov 17, 2011, 7:49pm
The Jackel/ Horseman headswap is inspired!

Posted by redlaser76 on Nov 17, 2011, 7:50pm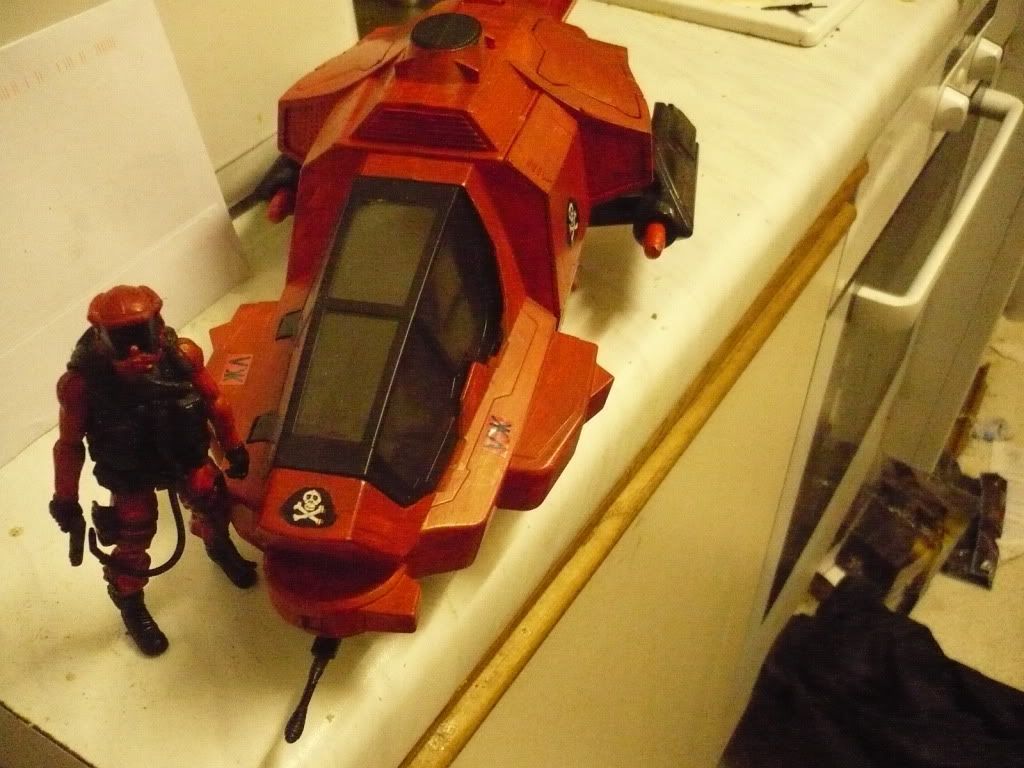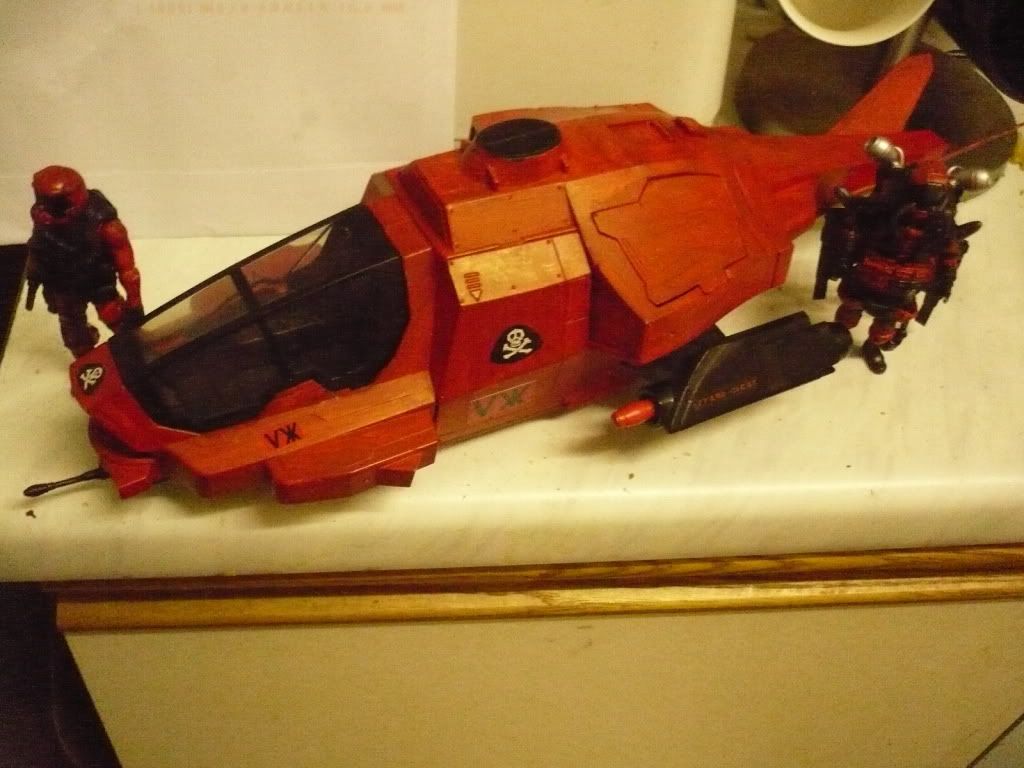 Gunship with pilot Red Raptor and corrupted crewman SkyDive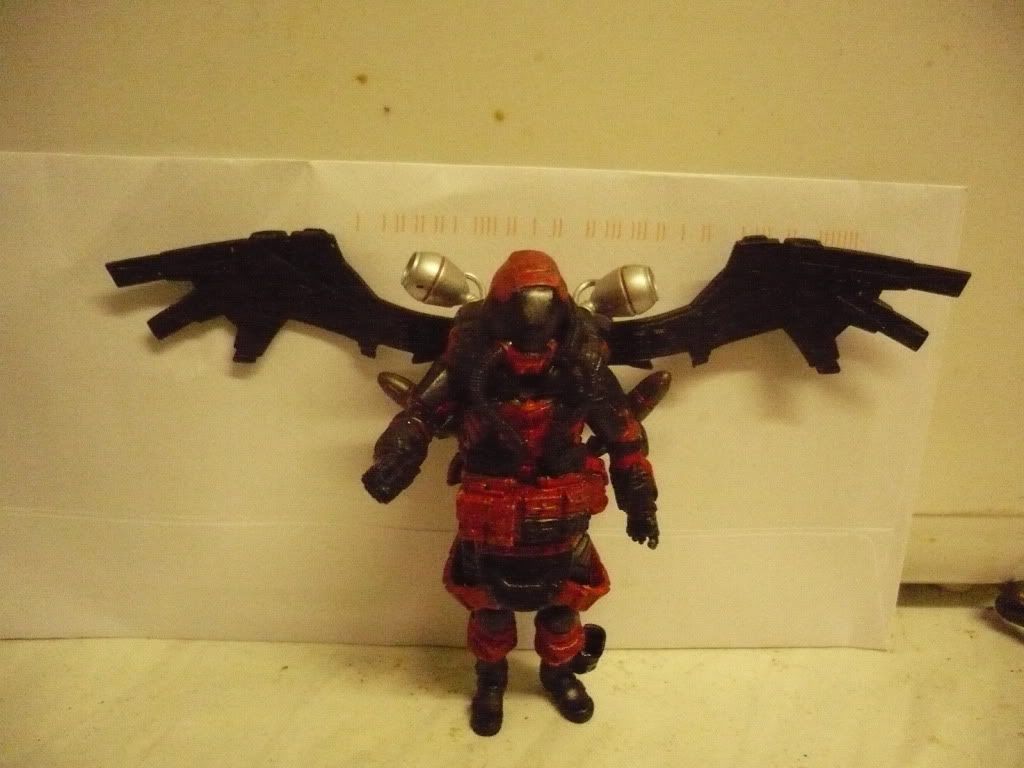 Skydive was once a loyal GI Joe until one day on a fateful mission he was shot down and woke up on an operating table in the presence of the Baron. He was given the choice die slowly from the poisons injected into him or join the Red Shadows willingly as an incentive he was shown his family held at gunpoint on a nearby screen. Skydive joined the Shadows cause and serves them loyally.
Posted by redlaser76 on Nov 17, 2011, 7:52pm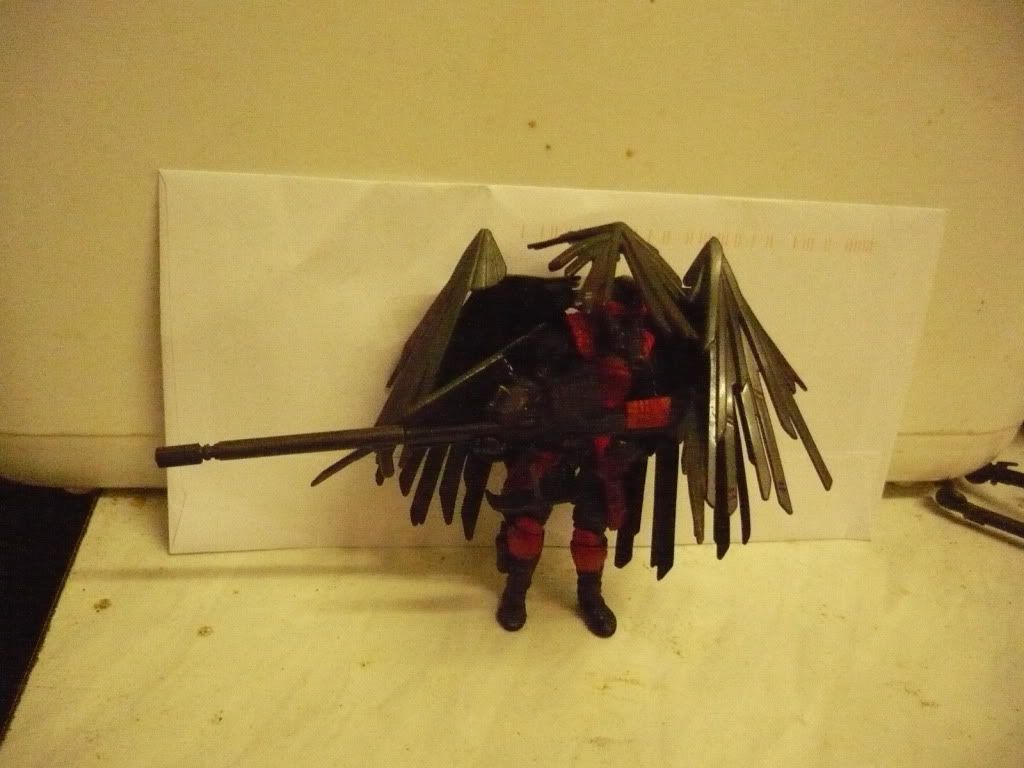 Medusa is an ex CIA funded merc he was part of a unit that operated out of Southeast Asia in Tam Quan under the code name Medusa. Over the years the unit was made inactive and forgotten about until one lone man came back using the name. Medusa is a whispered rumour in the international spy community it is said his stare can turn you to stone and no one escapes him. His file has been closed over the years and is full of rumour and half-truths. Some people believe he was a family man called David Webb who lost everything he loved and became a ruthless indoctrinated killer others he was a killer who turned traitor and may or may not have faked his death. He was found by a Red Shadow unit in the jungle only one escaped until Medusa fired the killshot right at the Baron's doorstep. Ironblood recruited medusa seeing what an asset he will be.

Posted by redlaser76 on Nov 17, 2011, 7:55pm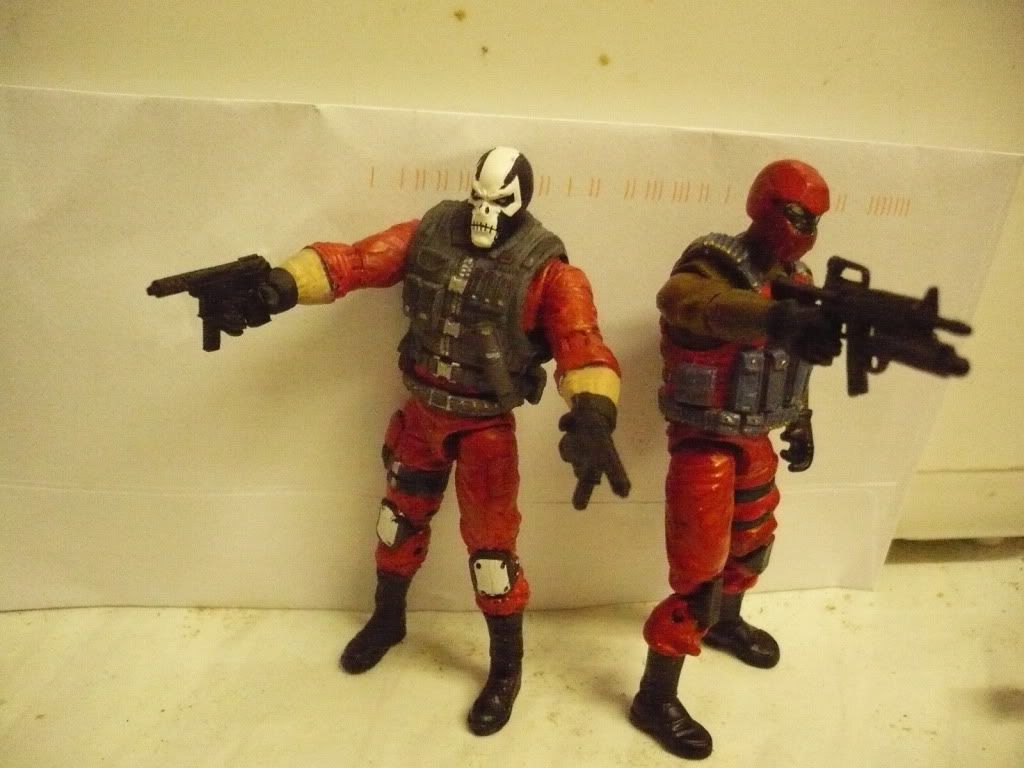 Basilisk pictured here with Night Adder is one of the Baron's newest mercs with a possible connection to Medusa. He is a hard, ruthless man who doesn't say much but when he does his raspy voice sends shivers down people's spines.
Posted by Dark Horse on Nov 17, 2011, 8:05pm
These all look fucking great in red!
Posted by redlaser76 on Nov 17, 2011, 8:23pm
Thanks I have loads more to post yet
Posted by redlaser76 on Nov 22, 2011, 7:08pm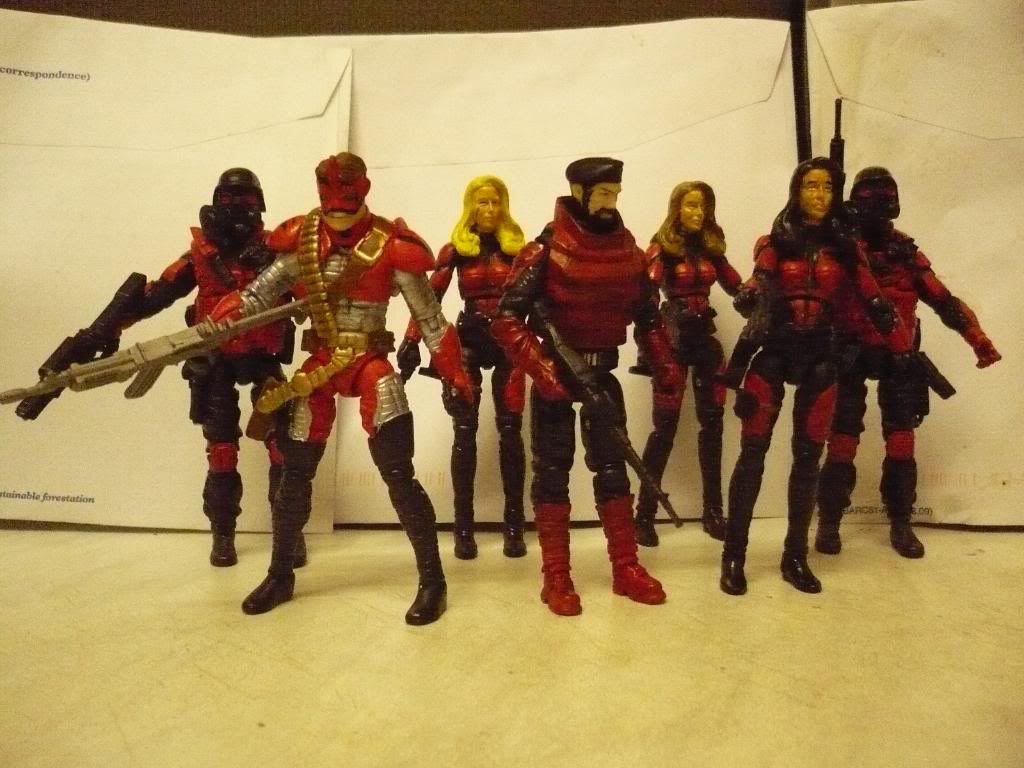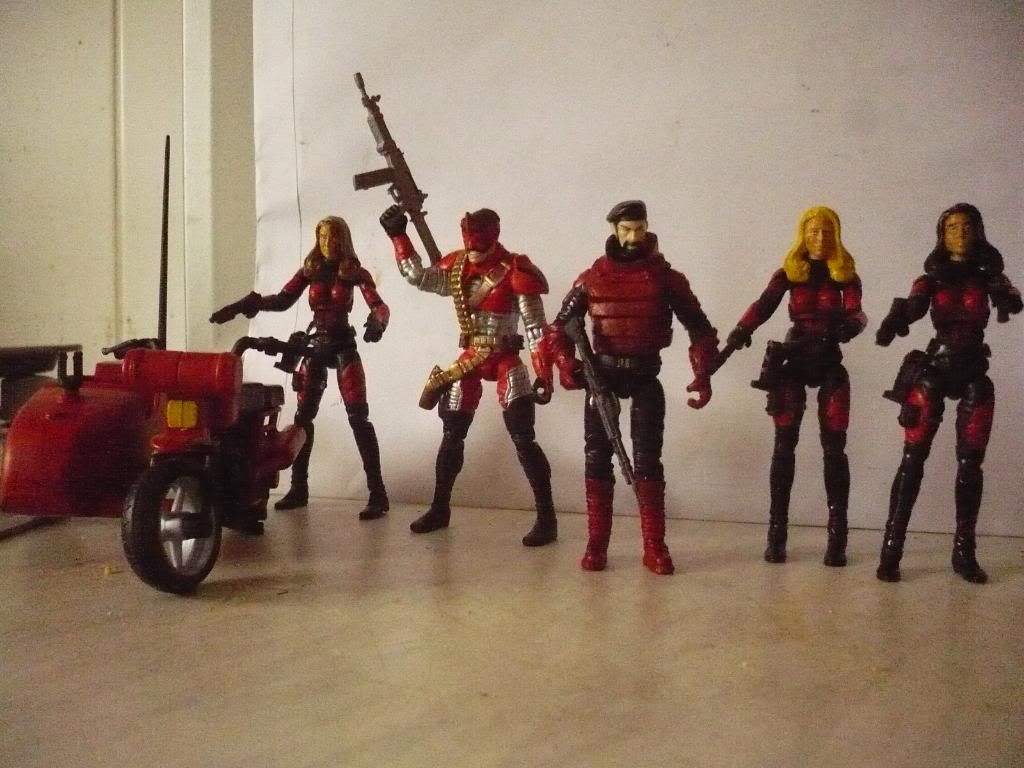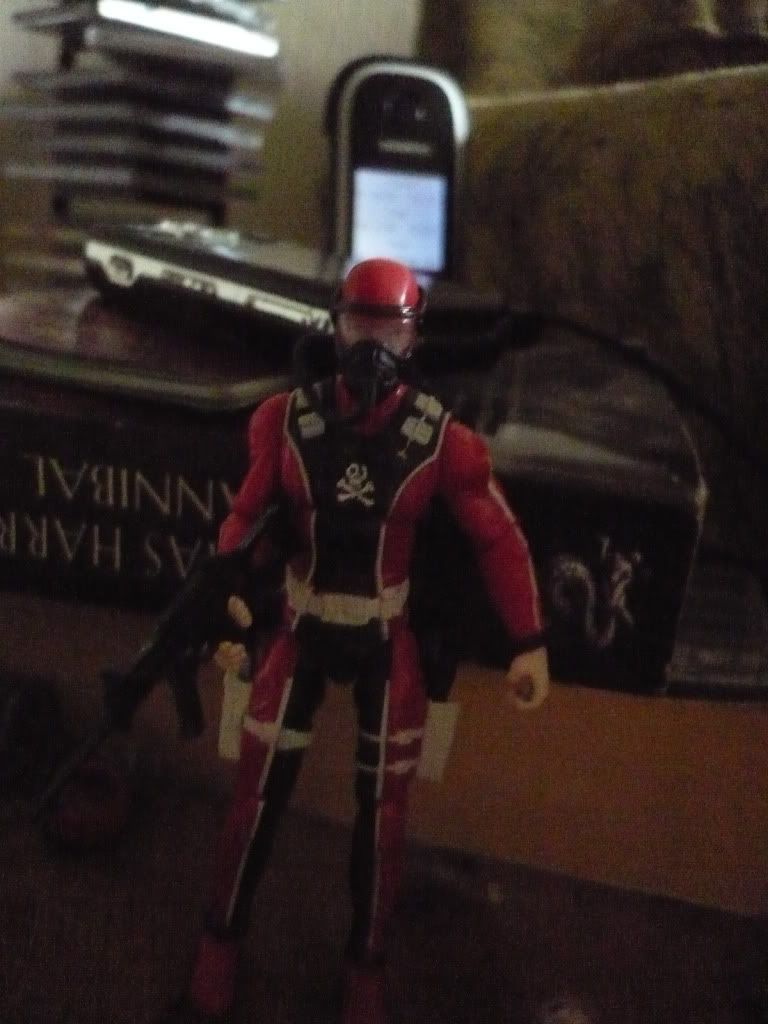 Red Shadow ShockTroopers, Red Tako from Red Dawn and a Red Shadow Diver
Posted by redlaser76 on Nov 22, 2011, 7:18pm
The Shadow Stinger driven by Red Skorpion, The Shadows Battlefield Mechanic
And a second one driven by Red 'I' from Red Dawn.


They are twins that work with the Kraken in information gathering the harder it is to extract the more they enjoy the challenge. I decided on the above names which mean Heir of God and to usurp glory.
The Kraken a former KGB interrogator was hired by the Baron for his unorthodox information gathering. He hides his face behind a helmet inspired by the Kraken shock troops and has taken on their name to instil fear in his victims. Some rumours say he is disfigured others say he is plain crazy either way he is The Kraken